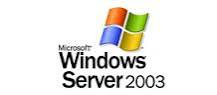 There is no better time than now to migrate. Only 3 months left until support for Windows Server 2003 ends. After July 14th, 2015, there's no more support for the aging operating system and no more peace of mind for anyone still running Windows Server 2003. What are you waiting for? The average server migration takes months to plan, execute, and properly test and Dell can help you make this process as seamless as possible.
How does this impact your business?
No updates – Microsoft released 37 critical updates in 2013 for Windows Server 2003/R2. After End of Support, these updates will be discontinued.
No compliance – Windows 2003 servers may not pass 

compliance audits (lack of PCI compliance could mean that 

Visa and MasterCard will no longer do business with your organization).
No safe haven – Both physical and virtualized Windows Server 2003 instances are impacted. Running Windows Server 2003 increases operations costs. Many application providers will discontinue support for their applications when running on Windows Server 2003. Microsoft Small Business Server 2003 Support is also ending at the same time.
Don't put your business at risk!  Call us today to plan your upgrade! (561) 404-9251