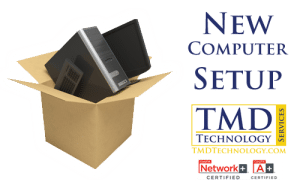 Just get a new computer? Make sure your computer works optimally right from the start. We will setup the new computer or laptop run all windows security updates, set up a user account and PC name, connect your computer to the Web and optionally can install programs like Microsoft Office and Anti Virus and can even assist with transferring data from your old computer.
We can also assist with installing a new router or access point.  We offer both remote assistance and onsite support so call now to schedule your install.
Let TMD Technology Services get your computer up and running fast with no headaches!